WhatsApp Facts: 10 Crazy WhatsApp Facts That You Didn't Know
WhatsApp Facts:   We all know as for how these days,  WhatsApp has become such an important app in our lives. Today,  it is seen as the best app to deliver messages,  videos, documents etc. to your contacts and friends so easily and that too quickly. It seems that we know a lot about the WhatsApp but there are some hidden interesting features about WhatsApp too that some of us might not know.  So here we present you top 10 hidden features of this amazing app that shall help you to know more about it. We will tell you 1o amazing WhatsApp Facts, Whatsapp wiki that you do not know. These are 10 Secret WhatsApp Facts. You can also read 12 Whatsapp Hacks and Tricks. 
10 Top WhatsApp Facts That Are Really Amazing
WhatsApp Inc.was founded in 2009 by two former Yahoo Employees. BRIAN ACTON and JAM KOUM were the founders of WhatsApp.  Also, it is the first ever Chat messenger to grow so rapidly.  Now, We Are going to Tell You the 10 Top Amazing WhatsApp Facts that you don't know.
Are You Ready !!! 
WhatsApp Facts #1: 1 billion downloads just with 5 people

10 Hidden WhatsApp Facts Which are Interesting
Do you know that the messaging service has already hit the 1 billion downloads mark just on Android back in the month of March last year? The WhatsApp co-founder along with CEO Jan Koum also then posted in the response of their that the team that was working on this WhatsApp android version was just only five people in total. So, this was one out of the 10 amazing WhatsApp Facts.
Bonus WhatsApp Facts: FACEBOOK BOUGHT WHATSAPP FOR $19BILLION IN FEBRUARY,2014
WhatsApp Facts # 2: Co-founder founders were rejected by Facebook and Twitter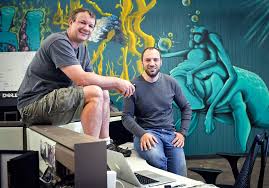 Both of the founders, Jan Koum and Brian Acton – who previously had worked together at Yahoo too – they both were rejected by the Facebook and Twitter too in interviews before they actually went full-time with WhatsApp. Getting rejected was how they actually found their way truly. This was second out of the 10 Secret WhatsApp Facts That people don't know.
Also Read: Steps to Share Your Location With Friends and Family Members
Also Read: Want To Know Who Checks Your WhatsApp DP Again and Again
WhatsApp Facts #3:  WhatsApp to compress images and videos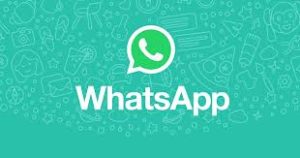 One can use a dedicated photo editing app to do that, but this also works wonders for a quick fix also if you don't mind the drop in quality, however. You just send the set of pictures and video files via WhatsApp, and then just simply head over to the WhatsApp Media folder present on Android or your own camera Roll on iOS to actually find the compressed versions. Also, you can delete the originals to save your space, or share the compressed images or videos too. This was third out of 10 hidden WhatsApp Facts.
WhatsApp Facts #4:  WhatsApp creates user account in the form of [phone number]@s.whatsapp.net
The service runs a customized version of the open messaging standard XMPP (Extensible Messaging and Presence Protocol), which was first developed for collaboration application Jabber. That's why WhatsApp uses the ID protocol made for Jabber in the form of <[phone number]@s.whatsapp.net>
Hold on!!! We have 5 more Interesting WhatsApp Facts…
 WhatsApp Facts #5:  The Game of millions and Billions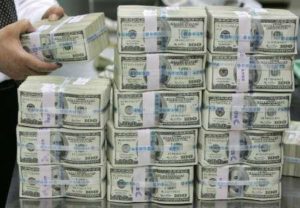 There are only 50 employees who work for WhatsApp. Yeah, you heard it right!! WhatsApp has only 50 of the Employees. And all 50 employees are undoubtedly millionaires and the Founders Jan Koum and Brian Acton are billionaires.
WhatsApp Facts #6:   See actually when your messages were read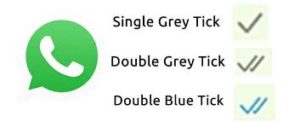 Have you ever like sent a message and later also saw that it has already been delivered and read too, but next you're not sure when really? So WhatsApp displays a couple of different minute tricks to actually tell you about the status of your delivered message. But it also then goes one step further and gives you a timeline breakdown too like on when your message was delivered and read too. So just hold on any particular message and choose 'Info'. And you'll know about it. This was the sixth out of the 10 Interesting WhatsApp Facts you must know.
WhatsApp Facts #7:  Custom notifications for any contact or group
The only way of knowing if it's something important in your message is to check your phone every time a message comes. But do you know that there's also a better way of doing things? Yes, you can easily set up a custom message sounds, ringtones, vibrating patterns etc. for your WhatsApp contacts and groups too depending actually on what device you're using. So iOS is the more restrictive one, allowing for only sounds and ringtones. On Android, however, you can do all four – like even going so far as that you choose any sound file for calls, vibrations etc. This was the seventh, out of the 10 hidden WhatsApp Facts.
Also Check: Download Google Allo for Best Video Calling Experience
Also Check: KIK Chat Messenger, Make Friends From All Around The World
WhatsApp Facts #8:  Text formatting – bold, italics and strikethrough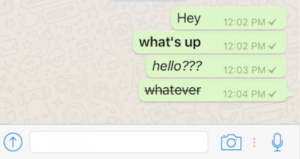 Since March, WhatsApp for Android and iOS has supported a very basic text formatting as well as in quite simple fashion, by actually enclosing your message in asterisks for a bold, underscores for italics, and tildes for a strikethrough. Then you can also combine any of these three for a much multi-formatted experience. Interesting right? This was the eighth, out of the 10 Top WhatsApp Facts.
WhatsApp Facts #9:  WhatsApp doesn't store user data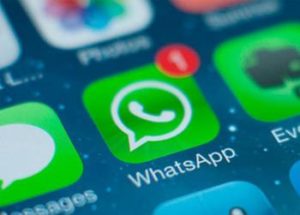 The main reason as for why WhatsApp Web needs your phone and its corresponding data services to work really is actually because the company so doesn't provide server storage for any of your messages, so unlike the Facebook Messenger or Skype. All the server maintains is a queue of your undelivered message also.Once a message gets delivered to your device, there's nothing left back on the servers. This was the 9th out of 10 Amazing WhatsApp Facts or you can say 10 secret WhatsApp Facts.
WhatsApp Facts #10:  WhatsApp provides 256-bit end-to-end encryption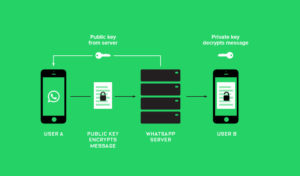 Developed by Open Whisper Systems – now all of the messages that are sent and received through the WhatsApp are now encrypted end-to-end actually which means hackers or oppressive regimes cannot like even a bit each your privacy. This move has thus actually thrust WhatsApp into the legal world limelight and since then, since it means that messages cannot be actually lawfully intercepted either then.
So, this was all from my side about 10 Crazy Interesting and Amazing WhatsApp Facts That people don' know!! This was Manavta Kaundinya, your all time favorite author here 🙂  I really thank you for reading it till, the end. We will bring more posts on Whatsapp Tips and Tricks