MilesWeb Reseller Hosting 
In today's era people want more than what they have, be it in money, comfort, luxury, or whatever they have. Upto some extent it isn't wrong, with increasing prices of everything everyone would want an increase in their pay scale or some extra income. So, to earn extra people are looking for online ways but there is a whole network of fraudsters online. And to be not a victim of them, one needs great research. But buying a Reseller Hosting is one trusted way to earn extra money online. If you are a blogger and not making enough money from your present Affiliate Network or Google Adsense, then you are at the right place. MilesWeb Reseller Hosting can help you earn a lot of money if you follow the correct strategy. 
Have No Idea, What a Reseller Hosting Is??…… Keep reading to know more!!
What is Reseller Hosting?
Reseller hosting allows you to be your own boss by starting a hosting business of your own. Your extra skills such as web developing or designing can be profitable to you if you start your own business to use those skills. These skills will help you in such a way that you can build a stop shop which is all in one by designing the website and as well as hosting it on the server. A recurring income will be there as it's a flexible business.
                           But to start the business a good web hosting provider is a must to buy the reseller hosting plan. MilesWeb is one such trusted and reviewed provider that allows and offers unlimited reseller hosting with WHMCS which has help many individual to start their own business.
MilesWeb Reseller Hosting: Best For Reseller Hosting Business
MilesWeb is one of the best web hosting providers in India. Started in 2012 and ranked in top providers in India today. MilesWeb is the geniuses of three experts to provide reliable, affordable and secure web hosting services. Apart from providing the top class web-hosting services they also ensure that it has a solution for every business requirement. A long line of hosting services is offered by them such as:
VPS

Cloud

WordPress  

Dedicated, etc.
MilesWeb even participate in different forums which makes them active in the community of web hosting.
Reselling and Pricing
A long list of reselling hosting plans is provided by them such as:
cPanel

WHMCS

SSDs

LiteSpeed which increases the performance.
By buying their cheap and under the budget hosting plans you can host unlimited websites if you wish to.
The unlimited hosting plan with WHMCS came good on paper which accompanied:
Ample Storage

Free WHMCS

Unlimited bandwidth

Email Accounts

Free unlimited SSL certificate, etc.
 They provide or offer three reseller plans i.e. Linux reseller hosting, Windows reseller hosting and cheap reseller hosting.
Eye-catching Selling Points Offered
Cloudflare CDN:

Content Delivery Network or CDN is an account for delivering content across the websites, users, and network across the globe. For network infrastructure and providing benefits to users, they boost website performance. Cloudflare has been provided with all the reseller hosting plans of MilesWeb.
Storage:

In comparison to traditional HDDs the 100% SSD storage boosts up the performance of the website.
LiteSpeed:

For high-performance memory caching to load the busiest website faster the MilesWeb offers LiteSpeed server cache. There is no requirement of any change in the code. When LiteSpeed is combined with files the users experience the excellent performance of the website.
1-click installer:

1-click installer or the Softaculous is also given to help install 400+ apps that too in a single click by the users.
WHMCS:

To get the WHMCS license you just need to select the reseller hosting plan that is the most suitable and the WHMCS helps in managing your web hosting business.
SSL Certificate:

The trust among the visitors is built by the free SSL certificate which the MilesWeb offers to the clients. Moreover, it also helps in improving website traffic.
Website Builder:

To be free of the hassle of coding or programming to build the website the free website builder tool is provided. Even the client being a beginner he can build a professional website easily.
cPanel:

Being a reseller it's your wish that you can give the control panel access to the clients which helps in managing domains, emails, and websites from a web-based interface.
Marketing:

The reseller marketplace provided by the company makes you offer extra services to the clients. Services such as:
Web Security, etc.

are provided.
Scan and Renewal:

 The client website security is taken care of completely by the MilesWeb. The Malware Scan features scan websites daily and if any threats detected it is being fixed by the MilesWeb team.
Domain Reseller
A free domain reseller account is offered by MilesWeb that helps to sell domains to your clients. The domains can be had in bulk with discounted rates and then resell them at preferred prices to the clients increasing your profit.
Salient features Of MilesWeb Reseller Hosting
cPanel & WHMCS

2.Reseller Marketplace
3.Hassle-free 

upgrades

LiteSpeed

CloudFlare CDN, etc.
MilesWeb Reseller Hosting Price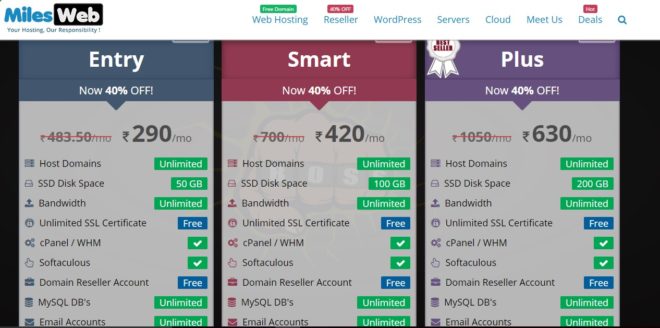 Check The Reseller Hosting Plan Here
Conclusion:
Be your own boss by starting your own business of web hosting. The start may be difficult to manage a web hosting company but slowly you will realize that it's not the case. Just keeping the focus on the business is all you need to do and the rest of the care is taken by the hosting provider. Keeping all this in mind, joining MilesWeb is beneficial because it not only is beneficial to you but the clients even.