PUBG – The New Life Taker
PUBG is the hottest game in trend. It's a multiplayer online battle Royale game. It has a fan base of over a million across the whole world. Well, we know addiction to anything is harmful to us. The matter of fact being mobile gaming is very harmful for our eyes and the rest of the body.
16 Year Old Boy Dies due to Cardiac Arrest While Playing PUBG
A recent incident happened that a 16year old boy Furqan from Neemuch i.e. in Madhya Pradesh died unfortunately by cardiac arrest while playing PUBG. The boy, Furqan Qureshi was a student of class 12 and was playing the game continuously for 6 long hours after which he died.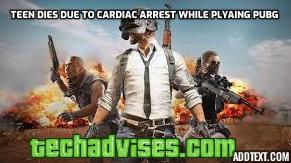 His father told that he was playing PUBG right after lunch. While playing the game he became very agitated and was shouting at his team members. PUBG is a game of high adrenaline rush. His sister stated that she was sitting beside her brother and was seeing him playing with his friends. She also mentioned that her brother was upset with his friend Ayan and told him that he will not play with him and threw off the earphone. It is said that he was losing in the game which made him very upset all of a sudden. Furqan's family has stated that soon after the game he suddenly collapsed on the floor. 
                                   Right after this, he was rushed to the hospital where the doctors declared him dead. The cause of death was cardiac arrest which was triggered by shock. The possibility is that because of this game he might be in a state through which he couldn't come out of that.
                                               It is advised to not be addicted to smartphone and gaming. There are way better things that can keep you happy in life, enjoy that! Smartphone has made our life easy but over the addiction to one thing can be dangerous. We are becoming addicted to mobile phones. Games like PUBG are addictive. Games are meant for leisure time, we should not become over-addicted to them. Stay tuned with Techadvises