Top Online Photo Editor Websites
Best online image editors    Photo editing has become essential nowadays. You need to edit your photos if you are applying for a job or filling a government job application form. If you are a social media influencer, like a blogger or Youtuber you regularly need to edit images for your blog or Youtube channel. There are many paid photo editor softwares, professional photo editors but everyone can not afford those expensive photo editors. So, today we bring to you the 5 free Online Photo Editor Websites which you can use to crop, mould, rotate, sharpen or for any image effect you want. You don't have to pay any annual charge or fee. Just upload the image you want to edit and the software in the Online Photo Editor Websites will change it into the desired format.re
5 Best Online Photo Editor Websites
Below we have listed the top Online Photo Editor Websites. Do let us know which one do you liked the most and why?
Freeonlinephotoeditor.com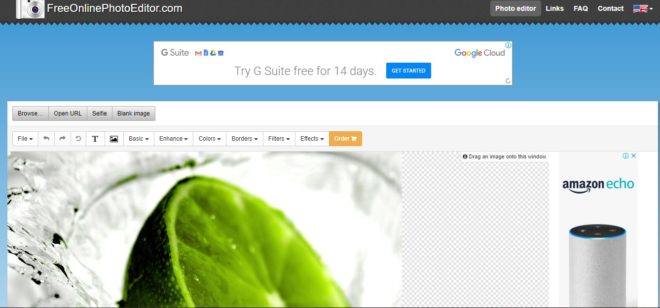 Freeonlinephotoeditor is one of the best Online Photo Editor Websites. Th website helps you to edit all types of pictures and images and gives you the access to best online image editing tools. When you visit the home page of the website you will notice that it has a lot of tools on the top namely Photo enlarger, toony tool, Diagram editor, Photo Editor, Print Screenshot etc  You just need to add the image form the computer or from any URL and the free picture editing tool will edit it according to the specified requirements. When you add any image or picture it gives you various editing effects like Basic, Enhance, Colors, Filters, Borders etc.  You will also notice an effect drop down which has more effects for the image editing. After your image has been edited you can download it at any location on your PC or laptop.
Also Check: Top 10 Apps To Earn Money from Photography
Befunky.com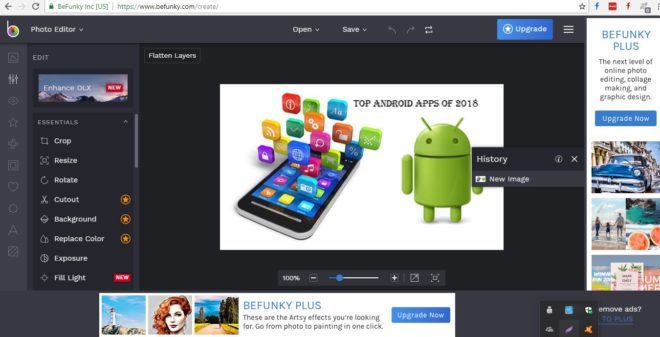 Next, in our list of top free Online Image editing websites comes the Befunky.com This is one of the website we used to use earlier for our blogs. When you visit the homepage of the website, it shows the Open image on the top from where you can add an image to be edited. On the left side it shows various Photo or free image editing tools like:-
Crop
Resize 
Rotate
Cutout 
Background 
Replace Color etc
You can choose the option you wish to choose. On the extreme left you will notice more image editing tools and effects. You can add touch up to the final image. Edit the graphics of the image or add beautiful frames to your image. Befunky.com has a good collection of default frames for your images. The best thing is you can also add text of any font style, width or size as a caption of the image. Isn't that amazing? You can make beautiful featured images for your articles if you are a blogger. Textures beautify the images, choose from the given textures and make your image more appealing.
Also download:    mAdhar app for Android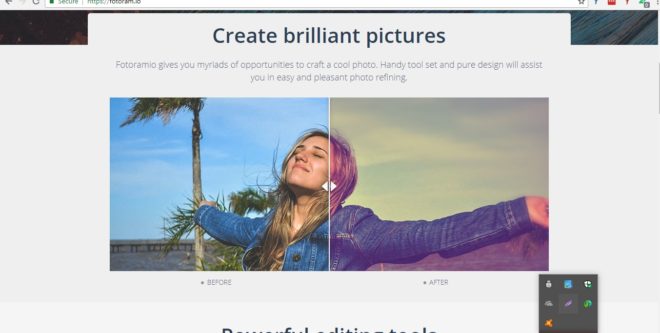 Fotoram.io is one of the top free Online Photo Editing Websites. It has a stunning home page will easy navigation. You can edit all kinds of pictures and images with the help of Fotoram.io and it has a lot of photo editing and image beautification tools. Just add the image you want to modify and begin the fun of editing with superb effects and filters. On the top it also shows the icon to make beautiful collages. If you are a college student you can make lovely photo collages of pictures with your friends and loved ones. You can make a family photograph collage and get it printed. You can refine your photo with amazing photo editing tools and online image editing softwares. It enables you to cut, enlarge, zoom, fill color, crop and enhance your pictures. Make beautiful cover pages and featured images for your blogs and YouTube channels. The best thing about the website is hat you can also edit images on your mobile as it also has the mobile photo editor feature in it. You can choose from the adorable set of textures and frames and make your images more eye catching. Some of the effects you will get to enjoy on the website will be Collage maker,s Blur, Exposure,Fill light, Tilt Shift, Vignette etc
Adobe.com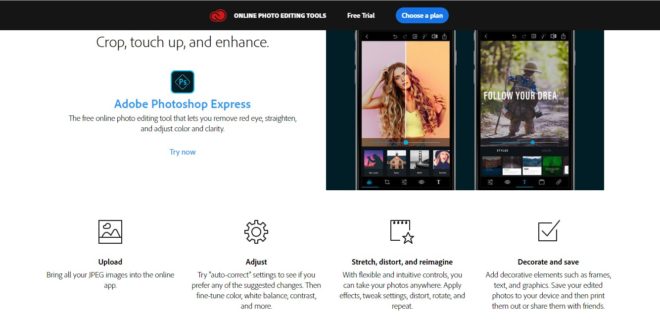 Adobe.com is one of the 5 free Online Photo Editing Websites that help you to make your images more beautiful. It offers excellent image editing tools and features. Adobe is already very popular and gives you the best image editing experience. You don't need to have a copy of the software you can edit the images online. Add your image and add superb features, effects and filters to your images. Change the color tone, add more filters, attractive frames, elegant textures and give a new look to your own photos or wallpapers. Make beautiful collage of your memories or photos you lobe the most.
Fotojet.com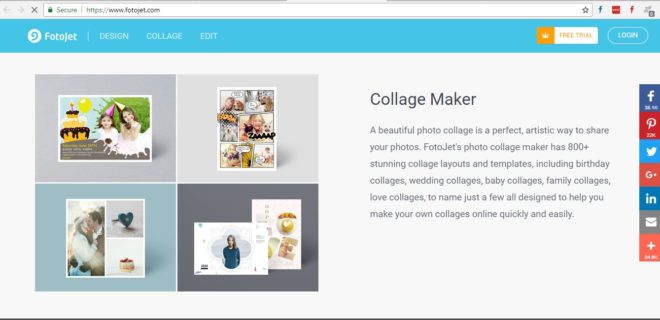 Fotojet.com is another professional free Online Photo Editing Website which offers you a list of exiciting tools and image editing softwares. No need to do the registration to use the software. It offers you free trial so you can save your money.
It has ultra cool Professional templates and function-focused resources collages, social media graphics, posters, cards, banners and much more. Create awesome artpieces with the free set of online image editing tools. It is one of the best free photo editor website. The free online photo editing effects gives the perfect modification to your images. You can make lovely cover images, flyers, edit wallpapers or make cool featured images for your blogs. This free photo editing website is used by thousands of professionals all around the world. The best thing is that editing an image does not take much time and you don't need to wait much.
So, these were the 5 free Online Photo Editing Websites. They let you edit your images and make them more appealing. We have listed the best Online Photo Editing Websites. Hope you liked the article! Stay tuned for more such tech updates, windows troubleshoot guide, internet tips, hacks and android tricks and facts.