mAadhaar App: UIDAI
mAadhaar App:  When Aadhar card was introduced for the first time by UIDAI, we saw a tide of change. It was the first time that a unique and common identification system was proposed throughout the country. Although some people opposed this idea, it accepted by most of the people with an open heart. Now, the Unique Identification Authority of India has taken the next big leap to simplify and enhance the process of unique identification. They have officially released the mAadhaar app that can be easily installed on your device and can be used for various purposes. In this post, we will talk about the Official Aadhaar Card app: mAadhaar App. Now Carry your Aadhaar on Mobile Phones. A digital  form of Aadhaar card.
About mAadhaar App for Mobiles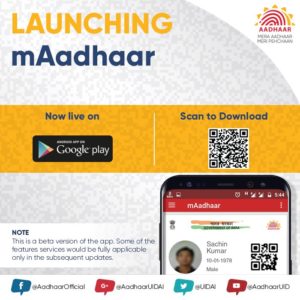 mAadhaar App is an official mobile application that will act as an interface to Aadhar card holders through which they can carry their demographic details. The app will be having your name, address, gender, and date of birth along with your photograph. This application is launched for all the citizens and the general public of India and is one of the easiest ways to carry your identity proof. mAadhaar App is absolutely free of cost and is available to download from Google Play Store.
The mAadhaar App also allows you to lock or unlock your biometric data to secure your Aadhar card from being used for illegal purposes or cyber crime. This is a wonderful app through which you can prove your identity at any time and any place without carrying the hard copy of identity proof. Now, there is no need to risk the safety of your Aadhar card by carrying it with you to different places, because mAadhaar App serves the whole purpose.
Also See: Best App to Easily Move Data from Mobile to SD Card
Also Check:  All in One Entertainment App: PlayBox HD App
Feature and usage of mAadhaar App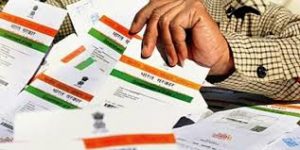 Given below are the features of mAadhaar App.
With mAadhaar App you get to download your Aadhar card profile immediately on your device for different purposes. You can produce your demographic data anytime and anywhere without having to carry Aadhar card.
You do not have to fear the leakage of your biometric data when you link Aadhar card with your bank account or any other account. You can keep it locked and unlock it temporarily for its usage at a particular place. mAadhaar App keeps all your data safe and sound.
Also Check: How to use PhonePe ? All in one guide with steps and images
mAadhaar App has a time based one time password generation feature which can be used for temporary authentication. This feature is way better than the one time password which is sent through SMS.
You can regularly update your online Aadhar profile and other details in case of change in contact number or address.
You will be able to share your QR code and other demographic data through digital means instead of entering it manually. This will ensure that your details are not leaked to third party.
As soon as you launch the mAadhaar App, you will have to select a password with 1 alphabet, 1 numerical character, 1 special character, and 1 capital alphabet.
Digital Aadhar profile will be downloaded only on device with mobile number that is registered on Aadhar card.
One Aadhar profile will be active on only one device and this is one of the best features from safety point of view.
If your family members have same registered mobile number as that of yours, then you can readily add their profile in your device.
Download mAadhar app on your device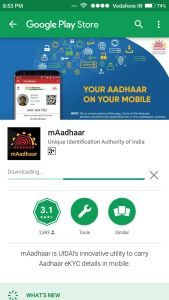 After going through the features, you would definitely want to download this app on your device. So, given below are the procedures you must follow for downloading the app.
The mAadhaar App is officially available at Google Play Store, so it is highly recommended that users should not try to download this app from external sources. Also, stay away from the hacked or modded version of this app.
Visit Google Play Store and search for mAadhaar App
Click on the link which says 'Install' and allow the completion of the process.
Launch the app and verify your Aadhaar profile as per the instructions are given in the previous section.
Now, your mAadhaar profile is ready to be used for different purposes.
Also Check:  Voot Apk for Entertainment, Movies, TV Shows
Also See:  Inshorts News App latest version for Android mobile phones
Therefore, it is clear that central government and associated authority are adopting measures to make the process easy for you. The users must understand its importance and use it for legal purposes only.