How to earn money from Google Surveys: Answer simple queries
How to earn money from Google:  It a very well known fact that Google does make a lot of money by users like us. It's us that use Google, and help it earn so much. But there is one hidden fact that most of us might not know. That is we can also earn using Google. Yes, you read it right. You can now use Google to earn money from yourself and here you shall know how to do so and How to earn money from Google. We will tell you how to earn money online.
Do you know how Google makes money? Google gives us Internet-related services and products. But how Google makes money from every one of us is actually by analyzing and monitoring our Internet activities and then so displaying adverts or the cloud computing, software, hardware and related stuff and so on. But we too can use Google to earn now. Learn how to earn money online.
One way is to earn money from google by answering quick surveys. This is one of the most effective and easiest ways on How to earn money from Google.
If one wants to earn some extra money in the form of Google Play Credit, Google will give you some in exchange for answering a few occasional survey questions. There are apps that help you do so such as with the Google Opinion Rewards app for Android. This app will ask you to answer simple and quick surveys. They shall be refined and shall not ask for your personal information. And then, you shall be gladly rewarded with Google credits.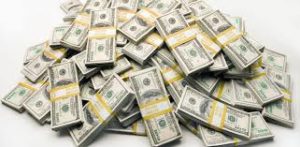 Then you shall purchase apps, music, movies and games from the Google play store with the credits that you shall have earned. Questions can be of different types such as , "Which logo is best?" or like "Which promotion is most compelling?" to "When do you plan on traveling next?" Such everyday questions that shall be easy and quick for one to answer will be what the google be asking you. Below you can check How to earn money from Google Surveys. You will easily learn how to earn money online.
---
How to earn money from Google Opinion  Rewards App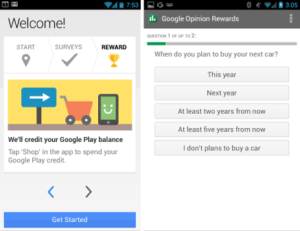 How to earn money from Google: Explained in Detail
When the app is first running, you will be asked several questions. Those all questions are designed so as to test your general knowledge and please do also make sure that the app is working all fine. It generally takes only a minute to answer them all and then you are set to answer surveys afterwards. All these surveys include everything from opinion surveys to hotel and product reviews to location-based merchant satisfaction surveys, and those all related to google survey users.
These all surveys that shall be done by you shall have a time period. Yes, that's right. All those surveys that you shall be doing will expire within 24 hours. Whenever the survey shall be displayed, a notification shall pop up. Then you'll have to complete that survey within 24 hours or so shall it expire.
You can not only do a survey but also can create a survey and then just set up custom audience panels to target the Google Opinion Rewards users thay you'd like to reach. The rewards you get however won't pay your bills or anything, but can definitely each survey reward. Though it looks so less, but it can be helpful like for buying a couple games and getting free movie rentals from the Google Play Store. That is also helpful isn't it. Google Play credit even works on in-app purchases so then you can also buy Pokeballs or comic books.
The way To Use The App is simple. When you get the notification, you just tap on it. Most surveys begin with an explanation of how this specific data is used. You just tap "OK, got it." Then you wshall be able to see a set of questions and these all question differ from one survey to another. No survey shall be same. And once you've finished answering all your questions, then you'll see how much credit you receive as a reward. And so then can you enjoy.
To earn google Opinion Rewards, you just need to be truthful and quick and consistent.
According to the product manager at Google for the app, the advice comes as the best way to get more surveys is to answer real honestly and respond to the given surveys quickly. If one want to make extra certain that you don't miss a survey, you can enable a notification sound so that every time a survey comes you do know about it. To turn on the notifications, one just need to go to Settings and then enable the "Notification sounds" toggle. That shall make it much easier and convenient.
However one does need to turn 'ON' notifications too. If you just want to keep your data as private as possible, then unfortunately this app isn't for you. Google will use this data to customize ads for you, and also on top of third-party marketing companies using it for analyzing your shopping habits. Though your data shall be used but as long as you're comfortable with that, enjoy your free money. And so in this way How to earn money from Google.
This was all about the best way on How to earn money from Google. Today we told you How to earn money from Google Surveys or Opinions by simply answering some quick questions. We will bring more ways on how to earn money online. This Was Deepak Kumar here. Don't Forget to Share this with your friends