Is Your Aadhaar Data Safe?? Think Again 😉
A French Hacker Elliot Alderson tweeted to PM Narendra Modi (@narendramodi)  on 29th of July if he could also publicly share his Aadhaar Card number if he is having one 🙂 Elliot Anderson is the same hacker who had recently hacked the personal data of TRAI Chief RS Sharma after he openly tweeted his Aadhaar in an open challenge quoting that the data of the Aadhaar users are safe! But actually the data is not safe! The French hacker is basically a security expert and his motto was just to expose the loopholes in the security system of the Official Aadhaar app, mAadhaar.
He has advised Indian citizens not to use the app because it has security loopholes and he also said that your data can be used in an unauthorized manner. Everyone loves his or her data privacy. Right? So, he just wanna explain that the Aadhaar data is not safe. After the Government's initiative of encouraging people to link their bank accounts and mobile numbers with the Aadhaar number things have become more vulnerable.
Also Read:  How to Clear Google Chrome Cache and Cookies
The French security expert also shared the phone number, data of birth and other personal details. The hacker could easily access his gmail too so he has sarcastically advised RS Sharma that he should change his Gmail password….On 13th of March, 2018, he claim to have hacked the Aadhaar of TRAI Chief, RS Sharma. He also claimed to have access to around 19-20000 Aadhaar cards by going through a series of searches on Google.He says that all these cards can be found on the Internet," Everything is public, no hack is required. You only need to use Google. These cards have not been found on the UIDAI server" And how could UIDAI be silent after all these tweets. After Elliot Anderson claimed to have easily accessed 20000 Aadhaar accounts UIDAI officially tweeted that one can not harm the other person just by knowing the Aadhaar number as it requires the biometric system to know one's identity. Check the tweet below:-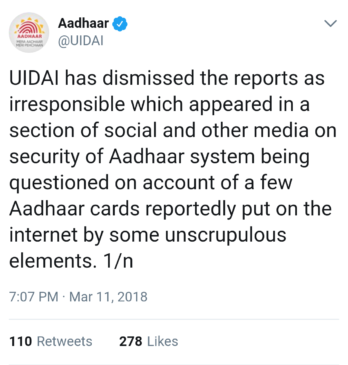 Also Check:   How to Download E-Aadhaar Card Online
In return reply French Security expert Elliot Alderson alias Baptiste Robert (real name) said that Aadhaar card is an identity document and UIDAI is not clear in their statements. He advised people not to use the Official Aadhaar apk as it has security loopholes. He also posted a video of  him, as how he hacked into the Aadhaar app in just one minute. The Aadhaar card safety and security issue has become a hot topic for debate and people from various departments are replying and putting their thoughts on the tweets. A tweet war has started between the security experts, common people and so called intelligent social media people.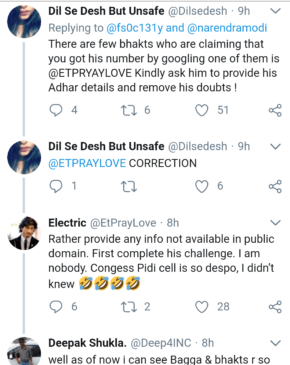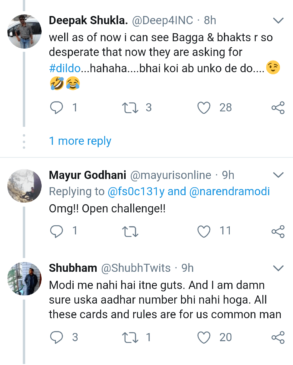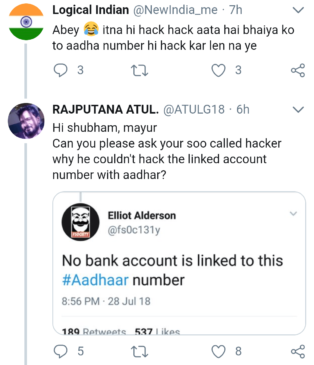 On 4th of Jan a report was published in the Tribune how its correspondent bought a service from an unknown person on Whatsapp by paying just Rs. 500 from Paytm. In return he gave a login id and password of a portal from where the correspondent can have access to anyone's details just bey entering the Aadhaar numbers. Data Security has become a hot topic nowadays. Few days back Facebook was also advised to become transparent in terms of security and many things.
So, this was our coverage on the Aadhaar card security issue. Hope you liked the post. What do you think? Is the Aadhaar data safe? Do let us know your thoughts on the same. Stay tuned with TECHADVISES.