Psiphon 3 is a perfect tool that opens flood gates to unrestricted internet browsing. Available for both Android and Windows Psiphon 3 is easily downloadable and user-friendly. Free to use and open source circumvention tool is perfect that facilitates unrestricted access to website that is banned in your country.
Download and use Psiphon 3 on Windows:
Psiphon has lots of takers on Windows platform too and works perfectly fine with any Windows version.Psiphon is facing quite some competition in the market and imposters are exploiting it. Make sure the Psiphon client that you are downloading is not compromised:
Download the Psiphon client from the website https://www.psiphon.ca/.
Click the "Download" button. The next screen offers you Download options.
Click on "Psiphon for Windows".
Once the download is complete, click the Psiphon 3 icon twice. On launching, Psiphon automatically connects to the fastest protocol.
For customization, you should go to Settings.
It offers following options
Minimize to system tray
A simple setting change that lets you minimize the tool in the notification area.
Split tunnel
This feature lets you break your traffic as per domestic and international. Psiphon knows the domestic channel will not be usually be banned. As use of Psiphon may slow down your internet access, you can browse domestic channels using split tunnel feature.
Disable timeouts for slow networks
Psiphon disconnects if the network is too slow. Enabling the timeout feature will prevent you from dropping off Psiphon.
Psiphon server region
A drop-down will allow you choose a different country to browse the unrestricted websites.By default, the fastest country will be selected.
Local proxy ports
Some applications may need the traffic to be diverted to particular ports. Use Local Proxy Ports setting to set it up.
Upstream proxy
Click "Don't use upstream proxy box" to set up Psiphon so that it does not use any proxy at all.
Transport mode
This is a simple VPN selection mode.
Download and use Psiphon on Android: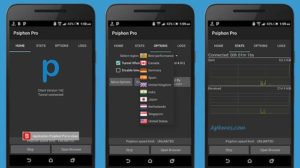 Check the Google Play store and download Psiphon. If your country does not allow you to download Psiphon, you may take the apk in the USB.
You can download Psiphon from the website on Android phone.Enable Unknown Sources Settings to install Psiphon.
If you can find Psiphon in the Google Play store:
Download the App.
Launch the App and click start.
You can upgrade to an ad-free version of Psiphon by shelling some extra money.
Click options to customize the App. The options list is not as huge as the Windows one.
You can Tunnel the entire device and select the country of browsing country. Choosing the Tunnel entire device you will have to permit the device to divert all your traffic through it.
It also offers Disable timeouts for slow networks.
Other settings available are Sound, Vibrate, Exclude Apps, and Connect through an HTTP proxy, Custom HTTP Header and Configuring the built-in Psiphon. The Android App offers lots of options to customize.
Using Psiphon is easy and lets you access internet without any restriction.