UC Browser Apk Removed From Google PlayStore
UC Browser Apk, the app which was popular among youngsters for faster movie and songs download has finally been removed from the Google PlayStore. Some of you will argue and say its still present in the Google Play store. So, let me tell you it is the mini version of Uc Browser and not the main one. Yesterday only I was advising one of my authors Manavta to uninstall the app from her phone because this phone is believed to hack your personal data and send it to third parties. I have myself uninstalled the unsecured App from my phone.
A lot was already in discussion amongst the security experts about the security issues of the UC Browser Apk. Security experts say that UC Browser is said to leak your personal data and information like your search behavior, the pages you visit, search keywords you use, your personal information stored on your phone. It sends all these details to third party servers. Let us read about some security issues that were noticed in the UC Browser Apk. We will tell you as Why UC Browser is not safe for users.
Security Issues with UC Browser Apk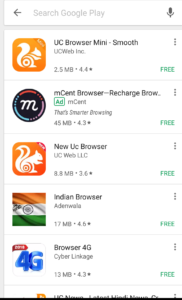 1.Malwarebytes is an anti-malware company and it has already declared it as a Trojan Virus.
2.UC Browser Virus: The UC Browser Apk is believed to be non-secure as it has been termed as a Trojan Malware by a lot of security tools of mobiles and also by those who use them.
3. Edward Snowden. I hope you know him well. He was a very popular security expert and former contractor for the United States Government. He has also revealed that UC Browser Apk is not secure for users.
4. It has been stated and proved by the security agencies number of times, that the app leaks your personal information and sends it to servers which are located in China. This personal information may include the pages you visit, your ad click behaviour, which type of Ads you prefer and click, the search terms you use generally, the images you see on the browser and a lot of things.
5. UC Browser Apk is also said to share data like IMEI, IMSI, Android IDs, and other network related information in an unauthorized way. Do you want an app to do this to you? I hope you don't want! Nobody will like that.
6. Citizen Lab has done a lot of security tests on UC Browser Apk and it has come up that there are issues with two different language versions of the UC Browser Apk, the Chinese language version and the English language version of the UC Browser App.
So, these were some of the information from the reports which have come up in the reference of privacy and safety issues with UC Browser Apk. Indian agencies were also keeping a close check on the security issues with UC Browser Apk.
So if you still not have uninstalled the non-secure browser from Your Smartphone. It's high time you do that, else you may end up losing your private data and personal information some day.
Also Check: Alternative Apps for UC Browser