Pacer app: the best fitness and weight loss app
Fitness is the must in today's fast pacing world. We all want to excel in our professional work and earn good but what's the use of earning huge amounts of money if you are not healthy. There is a very famous saying also " Health is Wealth". So here were are today with one of the best fitness app and weight loss app –  the Pacer app. Pacer app is a fitness app with Pedometer and weight loss app. In technical terms, a Pedometer is an electronic device which is used for counting steps. Pacer app does the same. It counts each and every single step taken by you. It can also be termed as the best Step counter app. Pacer app has a built-in pedometer that tracks your steps all day long wherever your phone might be. It doesn't matter whether you keep your mobile in your hand or not. The Pacer app keeps tracking even if your mobile phone is in your pocket, bag, or in the leather jacket you are wearing. In total Pacer app is the best free pedometer app.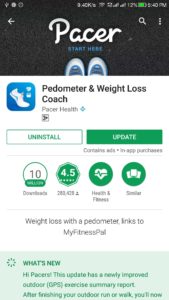 Download Pacer app for android/iOS devices
Pacer app is the best pedometer App for android. You can download the Pedometer app from the link below:-
Download Pacer – fitness 7 weight loss app for android
Download Pacer – fitness 7 weight loss app for iOS
More Pedometer apps on Google Play
Pacer app: key features and specs
*.Pacer app keeps a track of all the steps, calories burned, the distance you covered and total time you were active while you are running, walking or simply jogging.
*. Inbuilt Pedometer to keep a track of your steps and count them. It is the best step counter app.
*. Pacer app keeps a track of the exercises you have done in a single day.
*. It has the GPS feature which keeps a  record of all your activities on a map.
Also check: Top 6 WhatsApp Alternative Apps
Pacer app: A look at all the features in detail
1. Keep a track on your active time and stay Fit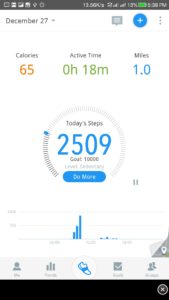 It has a built-in Pedometer device that keeps tracking your steps on its own. You do not need to keep your mobile in your hand all the time. Steps are counted by the Pacer app even if you keep your smartphone in your bag, jacket or a wrsit band.Count your calories burned the whole day, the distance you traveled the whole day by Jogging, walking or running. Built in GPS Boost up feature to track your activities with the location and map. Pacer app can prove to be the best fitness app for you.
Also see: Paytm app for android/iOS mobiles 
2. Best Weight loss app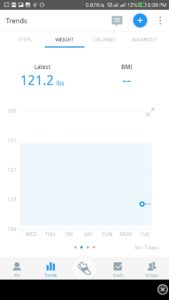 Pacer app keeps a record of your body weight and the BMI for a given time period or span. Pacer app informs you about any changes in your previous records and guides you what to do. It will surely act as the best weight loss app. You can add your weight with the date, time and comments in a dedicated section of the Pacer app. Obese people find it difficult to lose weight. They spend thousands on Gyms and personal trainers and still do not get the desired shape of the body. Pacer app will prove to be the best weight loss coach and guide for such people.
3. Fitness Groups to keep you inspired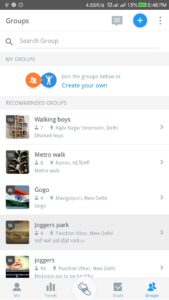 With the Pacer app, you can maintain walking and jogging groups with your family members and your friends, peers. Compare your progress with others. You can stay in touch with other people or friends trying to lose weight or getting fit with the group feature of Pacer app. There is a particular section in the Pacer app with group names and their GPS locations. GPS feature of the Pacer app increases its preference among other fitness apps.
Pacer fitness app – video guide
4.  Shows your active time and all activities in the day
Click on the Pacer app icon (in the form of a shoe) and it will show how much you walked, your jogging and running activities tracked and the calories you burned in doing so. You can also see the number of miles in the Pacer app.
5. Me icon – overall personal records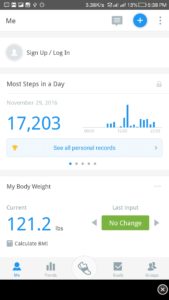 The Me icon of the Pacer app gives you a complete record of your average or 'most daily steps'. It shows you a graphical chart with the number of 'Most Steps in a Day.' Your body weight in lbs and change in your weight if any from the past records. Pacer app counts your average steps and helps you track your improvements.
6. Trends Section of Pacer app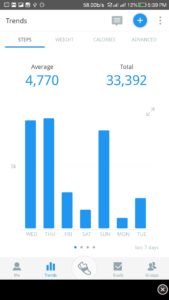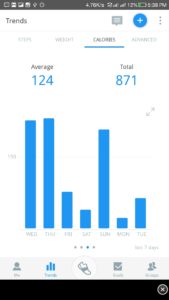 The Trends section of the Pacer app shows you a graphical representation of your activities with the days of the week. You can check which day you were the most active. A graphical chart of the calories with week's day below. This is the best part of the Pacer app. Isn't that cool?
6. Goals section of the Pacer app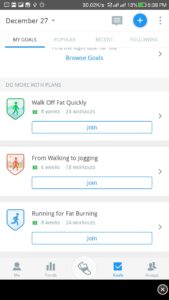 In the Goals section of Pacer app yo can set your own goals for future. some of the goals you can choose are Walk Off /Fat quickly
a. Walk Off Fat Quickly
b. From Walking to Jogging
c. Running for Fat Burning
Also see: Best apps to install in Amazon Kindle Fire 
So these were the amazing features and specs of the best fitness and weight loss app- The Pacer app. Hope you like our post and use the Pacer app for tracking your fitness and weight loss activities. If you have anything to say about the Pacer app or any other fitness app you know, feel free to do so in the comments section below.