June 2007 marked the beginning of a new era, a year when technology would redefine its limits. The iPhones stormed onto the scene, and fans around the world flocked to stores to get their hands on the revolutionary new mobile phone. Fast forward to 2018, iPhones are one of the most widely used mobile handsets with newer generations being launched year after year. However, like other mobile devices, iPhones too are vulnerable and susceptible to data loss.
Losing your data is a costly mistake since you never know who may get their hands on it.  You may lose your files while travelling, have your iPhone stolen, or simply lose access to your files for reasons unknown. This is why having a professional iPhone data recovery software is in your best interests.
Out of the many data recovery tools out there, Stellar Phoenix Data Recovery for iPhone is highly recommended because of its features that are mentioned below.
Features
Data loss happens when users try to jailbreak their iOS device or while attempting to update system software. iPhones are known to stay in suspended animation during recovery mode and are prone to file deletions as a result of virus and malware attacks. A factory reset loop may lead to data loss too. With all this considered, this iPhone Recovery software becomes your best bet when it comes to lost file recovery on iOS devices.
Based on our hands-on experience, Stellar Phoenix Data Recovery for iPhone features a user-friendly UI and provides various recovery options for iPhone users. No technical expertise is required to use the software, and all it takes is just a few clicks to install it and get it running.
To give you an overview, here are the different types of data it can recover:
Deleted contacts
Photos and videos
Call history
Safari Bookmarks
App-related data
Deleted notes
Messages
Message attachments
Stellar Phoenix iPhone Recovery software is available for free as a trial version on the official website. It allows users to preview and find lost files on their iOS device. However, for complete file recovery, the program requires a license code for which the software must be purchased online.
Compatibility
The software is compatible with most versions of the iPhone and runs on desktop PCs as well.
It works on the following operating systems:
Windows: Server 2003 and 2008, 7, 8, 9, 10, XP, and Vista
iOS: iOS 6.x, 7.x, 8.4, and 9.0
Ease of Use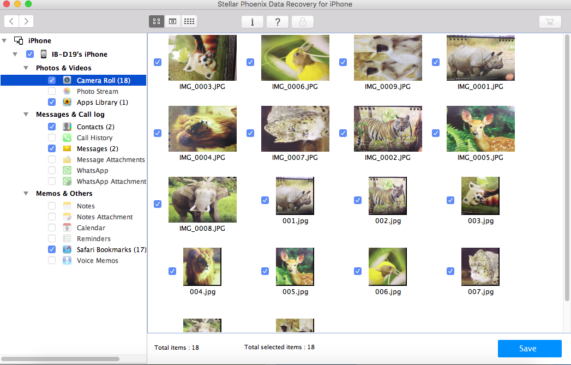 Recovering files with Stellar Phoenix Data Recovery for iPhone is pretty straightforward and simple.  Here is how you can recover lost files using this software from iOS devices–
Step 1:
Connect your iPhone to your desktop PC via a USB cable and launch Stellar Phoenix Data Recovery for iPhone. You will see four large options displayed on the welcome screen which are as follows:
Recover from iPhone
Recover from iTunes Backup
Recover from iCloud Backup
Import File to iPhone
Step 2:
Select Recovery from iPhone and click 'Scan Device.' The software will display a progress bar which shows users the progress of the analysis of lost files. Once it reaches 100%, a notification will pop up, and you'll see the results on the left-hand side of the interface.
Step 3:
Notice how the files are grouped according to their respective formats. Tick the boxes right beside the files you want to recover. If you still haven't found the files you were looking for, click the Deep Scan option for complete file recovery.
Step 4:
Save the files on your destination folders, and you're done!
Performance
This iPhone Data Recovery software lets you recover recently deleted files with ease using the quick scan option. For lost files which have gone through hard formatting, the software takes some time to generate file structures and helps recover iPhone data through the Deep Scan option. The quick scan takes a minute or two while the deep scan may take a couple of hours depending on the device with which you're scanning. Its preview option gives you a quick sneak peek and lets you decide which files to recover after scanning.
Price
The pricing is modest and not too expensive, and it's worth noting that the software is free to download for all users. The catch here is that users are simply able to preview files after running a data recovery on iPhone and not restore them. Stellar Phoenix Data Recovery for iPhone is reasonably priced at INR 2,499 for the standard edition, INR 3,999 for the Standard Plus, and INR 6,599 for the Technician edition (all prices are inclusive of GST).
The Verdict
Here's an overview of the program for iPhone users:
Pros:
Simple UI.
Supports multiple file types.
Recovers deleted files from iCloud and iTunes.
Recovers deleted contacts, camera roll photos, and encrypted data.
Supports multiple iOS devices, including the iPad.
Restores WhatsApp photos and messages too.
Cons:
Must have an Apple Store Account and iTunes installed for it to work.
iPhone must be connected to PC (doesn't run wireless).
Deep Scan takes a while and is not fast.
Your Trusted Backup
Life happens, and you may lose your files accidentally or without warning. The Stellar Phoenix Data Recovery for iPhone is an excellent option for those who want quick results. Both the Windows and Mac versions of the software offer the same functions and features with the only difference being their OS platforms.