Lifeguard Drone Saves Lives   A Lifeguard drone saves the lives of 2 boys in Australia. A Lifeguard drone designed by Little Ripper was launched by a lifeguard supervisor who was noticed the 2 boys in danger. Wasting no more time, the lifeguard supervisor quickly launched the Lifeguard Drone which dropped a floatation device to the boys so that they could be saved.
The two boys, aged between 16-17 were swimmers who got into trouble off the coast of Lennox Head, New South Wales (NSW).
The Lifeguard supervisor was Jai Sheridan who saw the 2 boys in trouble and launched this Lifeguard Drone to save their lives.
Watch Lifeguard Drone Saving Swimmers Video Below:–
This act of rescue has been praised by John Barilaro, the state's deputy premier. He said, "Never before has a drone fitted with a flotation device been used to rescue swimmers like this." The whole incident has been smartly captured by the Lifeguard Rone's camera.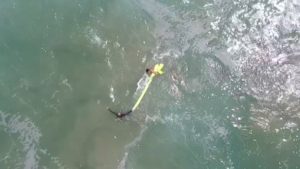 Don't Miss: Top 10 Websites To Download HD movies
Also Read: Sophia Robot and Artificial Intelligence Robot Projects
News Source: BBC 
Featured Image source: BBC News