Samsung Galaxy Note 8: Release Date, Leaked Pictures
The Samsung Galaxy Note 8 Release date is yet to be known, but its features are constantly being speculated on by online gadget enthusiasts. If we go by the latest reports, the device will be powered by Snapdragon 835 CPU for US models and for its international counterpart, it will be powered by Exynos 8895 CPU.
Although the specifications may seem too good to be true, but overall the features are pretty believable and seem practically identical to the Samsung Galaxy 8 and Samsung Galaxy S8 Plus phones.
The launch of the model is being speculated to be around September.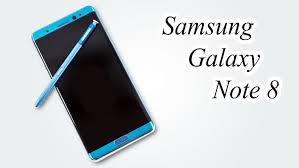 Although the details regarding the features are still uncertain, the below-mentioned details are common among them.
Also Check:  Samsung Galaxy S8/S8 Plus Price, Features, and Specs
Also Check:  Samsung Galaxy Note 7 Best price, Features, and Specs
Samsung Galaxy Note 8 Features and Specifications
Having a 6.4-inch display with QHD+ resolution, it also might features options for 4K. Coming to its storage, it will come with 6GB RAM and 64GB internal storage. The model will feature a dedicated Bixby hardware button.
Although Note 7 was met with mixed reviews, Galaxy Note 8 seemed to be more promising and is supposed to be the Samsung's biggest flagship yet. Note 8 will feature dual-firing speakers, which would provide ultimate stereo sound which is very much identical to Apple's new iPhone 7 and iPhone 7 Plus. Similar to Note 8, it will feature a 1440p default resolution. The build numbers for the device have been announced as well – N935LKLU2AQD2, N935LLUC2AQD2 and N935LKLU2AQD2.
Speaking of the S-Pen stylus, it is becoming very pressure-sensitive by gathering new skills which are helping to get it easier to navigate around. It will enable one to drag and drop, hover, annotate and illustrate on objects and at the same time help keep the screen smudge-free. This will be an advantage of using a pen versus your sweaty, greasy finger. Speculations have also been going around that Samsung will add more S Pen features in 2017.
Industry rumors also claim that the model will come with fewer bezels.
On the other hand, original Note 7 owners who will have waited for a while now to get a new Note could have plenty of other options waiting for them when the Note 8 does materialize.
Samsung Galaxy Note 8 News and Rumors
Besides, Samsung is reportedly ready to come out with its first foldable smartphone, equipped with two displays in 2017. Samsung will initially build small batches, just around 3,000 units. The reason behind this is to create a better understanding of how consumers might one day take advantage of smartphones that fold.
The leaked features have not met with any support from the firm itself.
South Korean multinational conglomerate Samsung is working to integrate with other companies to develop hardware and services on Microsoft's OS. It has already announced it will be working with Microsoft for developing IoT devices based on Windows 10, where both the tech giants will work hand in hand for developing products that will run on the platform.
Also see:  Moto G5 Plus price, Specs, and Features with Best Offers
Basically, Samsung has suggested that they are not planning a big design shift with the Galaxy Note 8, and the new model might look like the Galaxy S8 line.
So, all we can do is hope that Note 8 surpasses the performance of all its predecessors and give us an experience like never before.