Best apps to watch live cricket
Live Cricket Watching App:  Cricket is a sport that is soon enveloping the world. It has all that you need, the charm, the nerves, the ooze and everything else. It is a game that everyone wishes to enjoy. People get so crazy behind this game that they don't wish to miss even a single ball of it. With advancement in technology, it is become very convenient to see cricket on smartphones and other portable devices.
In this article, we elucidate you about 7 apps that let you watch cricket even on the go. You just have to open the app and live cricket updates are sure to make you feel connected to the game. These apps have information which is just not limited to cricket. You get stuff like news and more about the happening in the world of cricket. Live streaming is always fun and if you are a big fan of streaming movies, you might want to check out this apk file. It will help you to enjoy live cricket streaming.
7 Best apps to watch live cricket
Hotstar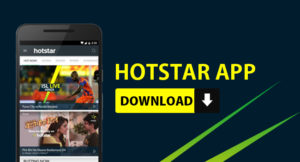 Hotstar app is probably the best apps when it comes to watching cricket. It has all that it takes to enjoy live action. It is live and gives you HD quality streaming along with score. They app has a look and feel which feels very premium. At one point of time, you can switch between two cricket matches if they are happening.
You can login the app by your Facebook ID and get to enjoy the app. Apart from the ICC cricketing events, you will also get to enjoy the action of league matches. It is all in there. Apart from cricket, there is a whole range of sports that you can enjoy on the app. Users can also opt for the premium membership of the app that will get them live action as the other stream is 5 minutes late. This was one of the best live cricket watching app
Also Check: Best Apps for Amazon Kindle Fire
2. NDTV Cricket app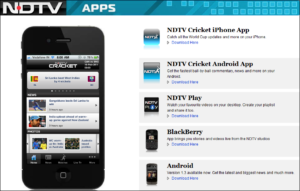 For people on the go, NDTV cricket is the best app to enjoy the game. If you are someone who gets less time but still wants to catch up the live action of cricket then you should download the app. There are tons of features that will keep you grooving to the app. The app will give you notifications too. All the cricket highlights in one single app. Get live cricket score update on your mobile phones.
You just have to open the app and the app will tell you all the important stuff like the current bowler and current batsman. You even get latest photos, news, and stats. The app even gives notifications via the push technology. This was one of the best live cricket watching app.
Get the app here
Also Check: NDTV Gadgets App 
3. Cricbuzz app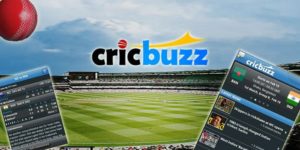 The name says it all. Cricbuzz is an app that has recently gained a lot of traction because of how appealing it is to the users. Unlike other apps which may deal with other sports, Cricbuzz has all things related to cricket. This app is probably the fastest of all when it comes to cricket. You get everything from ball to ball commentary, super fast scores, stats, post-match analysis, and regular notifications, enjoy live cricket streaming.
Since the app is totally dedicated to cricket, everything here revolves around cricket. The app has video highlights of certain matches, rankings, records and the app covers almost all the major matches that happen across the globe. You just have to switch between apps. More than everything, the app supports multiple languages.
Get the app here
4.ESPN Cricinfo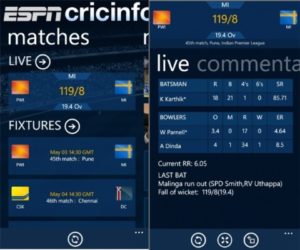 ESPN has been associated with sports since its early days. It is a major broadcasting network all across the globe. You can see almost any game on the channel. ESPN Cricinfo is that app which especially covers cricket. It is an app that you can customize as per your taste. You get everything from scores, alerts, stats and notifications, live cricket streaming.
The best part is that the app has been optimized such that even when you are in a poor network area, the app shall work great for you. Just one touch, you can personalize the app. The app also keeps you updated with news and stats like batting records and individual cricketer's records.
Get the app here
5. Smartcric app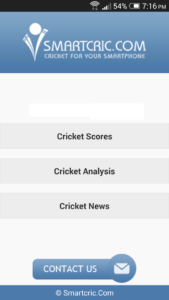 Smartcric is one of the latest apps that is keeping the fans on toes with the latest news about the happenings in the world of cricket. It came out earlier this year and since then it is being loved by cricket fans from all over. The app itself has a very simple interface and gives the most basic stuff such as live cricket score and current standing batsman and bowler.
The best part about the app is how lightweight it is. It will get installed very easily and won't hang. Though this app is not in the google play store you can download it from third-party sources. It even tells you news such as about any new cricketer or any other happenings that is worth knowing about for cricketers.
Get the app here
6.Yahoo Cricket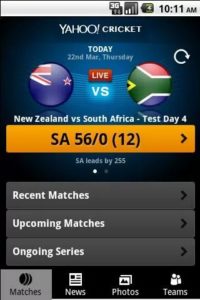 Yahoo has a dedicated app for cricket called yahoo cricket. There are are many features of the app like it has an interactive scorecard, instant real-time updates. You can install a widget which will allow you to enjoy the match directly on your home screen. Whether you want to know about the ball to ball commentary or just the basic score, the app has it all. Enjoy live cricket online on your mobile.
The app has a dedicated section for photos where you can see HD images that of the ongoing match or any other event. Users get to read about all the latest news about the ongoings of cricket. You even get the in depth analysis about already completed games in the app.
Get the app here
7. Star sports live TV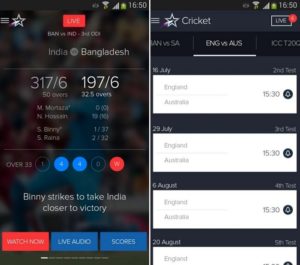 We all know how popular and star sports network is. They broadcast every major sports across the globe. They have everything from rugby to badminton, from wrestling to kabaddi. The star sports live TV app is a dedicated app that does lots of coverage on cricket and many other sports. You can see live matches, highlights, current stats and the app covers all the major leagues. You can enjoy live cricket match today scores, cricket news, live cricket streaming and match updates. Many of us wish to enjoy live cricket streaming HD.
You get many more things in the app. There is live ball to ball commentary, you get to know about the latest match schedules, points tally, league standings and much more. To top it all, the app even supports multiple languages so no matter where you live, you can stay updated about all that is happening in cricket.
Get the app here
Also Check: Download Voot Colors Kannada Apk
Conclusion
Cricket fever goes on for the whole year. Cricket matches keep happening everywhere and with millions of fans around the globe, everyone wishes to be updated with scores, wickets, latest of the news and much more. In this article, we have tried to elucidate you about 7 apps that let you enjoy cricket on the go.