ManyMee Social Connectivity App:  Today we will introduce you to an amazing android app. ManyMee is an Android App available on Google PlayStore which lets you share your stories and life experiences of bad and good times and life moments with others. With ManyMee App, you can connect with other people who support you or are in the same situation as you are.
ManyMee is your social connectivity App which has a unique theme. You can anonymously share your bitter experiences, sufferings, and stories with others. It gives you the courage when you come to know that others are also facing the same issues and problems. ManyMee believes that every Heartbeat is important and they care about each and every HeartPour. A lot of people go through sensitive situations and bad times in their lives and they need someone to with whom they can share their sufferings.
We all are well connected with the social media like Facebook, Twitter, Instagram, Google Plus but at times we face situations which we can't disclose openly on our social media handles. We have a fear in mind that people will ignore our situations. Everyone is happy with their life and if we share our bad experiences we may stand oddly from others.
On ManyMee every post is termed as a HeartPour and every Heartpour is special. The reason to term each post as a HeartPour is that this is your true voice directly from your hearts. The best things about this social Connectivity app is that each person who posts on ManyMee is Anonymous and you don't need to share your personal details like Name, Age etc. You feel more accepted by the world when people click the icon "I am with You". Basically, there are two icons in the ManyMee android app.
"I am With you"
"We are in the same boat"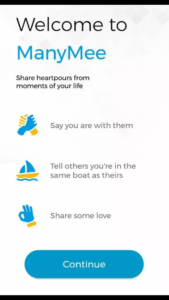 The ManyMee App icons let you respond to people's situation and emotions. There are a lot of options and moments that you can share with others. It lets you show that you care about other people in the community and you have a caring nature. This social connectivity App can also be termed as Spiritual in a way because this is the place where you can share your bitter life experiences and sufferings. It will give you some inner strength and courage when people say that, "I am with you' and " We are in the same boat" Sometimes we feel that we are alone but this may not be true because there can be lakhs of people suffering from the same situation. People respond to your heartpours by using the icons in the app. You can share both your happy and sad moments of life.
At ManyMee there are about hundreds of moments that you can share. Let us check what all moments you can share on ManyMee as HeartPours.
Also Check: 10 Top Mobile App Designing Platforms
Trying something new? Find how many with you.
• Undying Memories
• Loss and suffering
• Et tu Brute?
• Parents
• Tomorrow
• Moment of Happiness
• Fears and Apprehensions
• Status Anxiety
• I need Change
•In the news
Marriage
Can't share it Elsewhere
Twin flames and Soulmates
• Negative Thoughts
•Passions
• What's Hot?
Features of the ManyMee App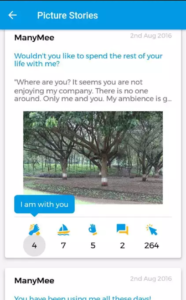 Your identity is not shared with anyone. ManyMee never asks to share your personal details on the app.
If you wish you can upload your photograph
You can add your own story or choose a HeartPour which matches your situation.
You can follow any of the HeartPour by using any of the 3 icons in the app.
There is bell icon on the top right which brings to you all the notifications.
Sorting the HeartPours is very easy.
We hope that you like the app. so, what are you waiting for? Download the App and start Sharing your moments from today. If you have any suggestions, you can tell us via the comments section below.
Source: ManyMee App (Google PlayStore)