Share your views on any of the following topics on the Wishfie app, and stand a chance to win up to Rs. 10,000 in PayTM cash*!
Log onto the Wishfie .app and search for any of following topics:
If you had the opportunity to update India's constitution, what all will you change?
My vision of India in 2030
What according to you should be the number one poll issue for political parties in 2019 elections?
If you had Rs. 1 lakh crore to spend on India's development, how would you divide this budget?
Who should be India's Prime Minister in 2019 and why?
In 2018, how do you plan to contribute towards making your city a better place to live?
Terms and conditions.
Only original videos with your own authentic opinions recorded on the Wishfie app will be eligible.
Videos will be judged on the quality of content, authenticity, clarity, original thoughts and likes by the Wishfie users.
The contest ends on 31st Jan 2018. No entries will be considered thereafter.
Team Wishfie's decision will be final.
The Winner will be announced on 5thFebruary and the PayTM cash will be transferred within 2 days.
The Winner will be liable for any taxes that need to be paid on the prize money.
More details at : http://wishfie.com/India-Speaks-up-contest.html
What is Wishfie?
Wishfie is a video social network that empowers people to share their opinions using their phone camera. Unlike Q&A apps, there's no right or wrong answer on Wishfie, all opinions count! Wishfie's goal is to give power to people to participate in shaping the world of tomorrow by voicing their opinions on things that matter to them.
Wishfie is also the best way to understand people by knowing how they think about different things. There's no other platform that brings out the "real you", your most authentic self than Wishfie.
Who's behind Wishfie?
Wishfie has been founded by NSIT, University of California alumni who've worked in companies like Facebook, Reliance Jio and serial entrepreneurs with global exposure.
Why this contest?
We want to encourage the youth to participate in constructive debates to help them exercise their right to speech that our great democracy provides. So far, they were limited to text-first platforms that fail to give the visibility their opinions deserve.
Wishfie is an innovative social networking app from India that leverages the mobile and video adoption. It breaks away from the heard of apps focused on redistributing viral content. Wishfie is focused on making the world a better place to make internet more inclusive.
Wishfie has been selected by Facebook for it's Facebook start program and has invested $40,000 in the form of various benefits.
How to use Wishfie?
Starting a topic:
Simply swipe left, enter any topic that you want people to share their opinions on. Use relevant hashtags.
You may add your own opinion after starting the topic.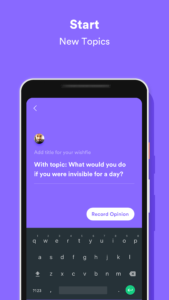 Adding an opinion:
Browse the feed or swipe right to discover popular topics. Hit the Reply or Opinion button and record your opinion. You may flip the camera and record other people's opinions too.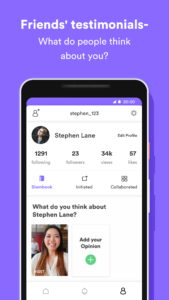 Find out what your friends think about you:
Go to your profile and invite friends to share video testimonials for you. You may leave video testimonials for your friends by going to their profile.
Download Wishfie App now and participate in the competition