Whatsapp Tricks and Hacks
These days undoubtedly one of the most used apps is the Whatsapp. It has been the best messaging platform till date. But there are some Whatsapp Tricks and Tips that can very easily make the WhatsApp apk more interesting and useful. In this article, we give you the top 30 best Whatsapp Tricks and Tips that will make using the Whatsapp Apk more interesting.
31 Whatsapp Tricks, Tips and Hacks: Not so Common Tricks
How to know if someone has read your Whatsapp message or not
Sometimes we wonder whether the another person has read your message or not? And whether he or she is ignoring your Whatsapp messages or what? To know if someone has read your WhatsApp messages or not, you just need to go to the conversation chat window of the whatsApp and thus keep the message pressed for few seconds. Then one needs to click on the 3 vertical dots on the top right and then click on info, after which you shall know about it.
To recover the deleted messages on the WhatsApp
Sometimes we accidentally delete the WhatsApp chats and messages. But later on we realise that we need those messages because they contained an important information or something. One needs to connect the smartphone with the PC via the USB cable and then go to the folder named as the Whatsapp/databases. This folder contains database of all the Whatsapp messages.  After that open the two files msgstore-yyyy..dd..db.crypt and the msgstore.db.crypt which shall contain all the messages from the sent or received in the last 7 days.  Just open it to view and read the messages. So, this is one of the best unknown Whatsapp Tricks
To use multiple WhatsApp accounts on the same phone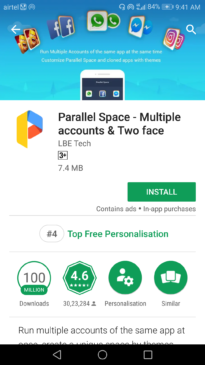 We all have both our personal lives and professional lives. This distinction can be observed on Whatsapp too. You can keep 2 different Whatsapp accounts for each, one for your friends and family members and one for your business clients and partners. You must be curious as how to use multiple WhatsApp accounts on same phone. To do the same, you just need to download Parallel Space apk from the Google Play Store and then install it.Then you can add accounts over it and easily run more than one Whatsapp account on it. The only disadvantage of the Parallel Space apk is that it makes your smartphone a  little bit slow and the irritating ads you get while using the Parallel Space Apk. 
To create shortcuts to a frequently contacted person on the Whatsapp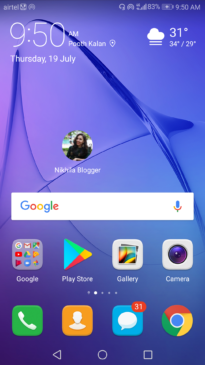 Secret WhatsApp Tricks:  We all have some persons with whom we chat a lot. He or she may be your friend or someone special for you or your business partner with whom you need to contact again and again. You just need to keep the contact pressed for a few seconds and then a pop-up menu shall come up where you then have to add a chat shortcut. It is as simple as that. Doing this adds a Whatsapp chat shortcut of that person on your home screen. So, this is one of the 31 top Whatsapp Tricks. Isn't that cool?
To change the phone number without changing the account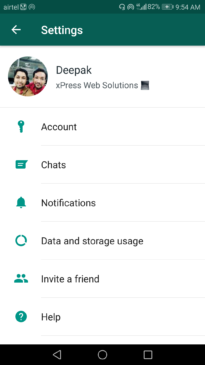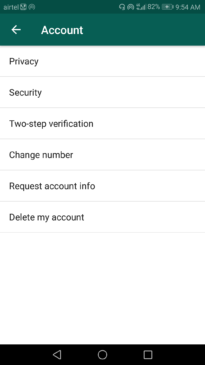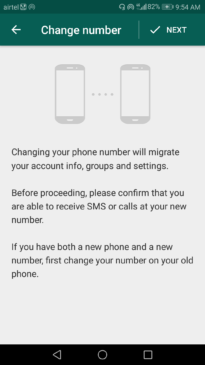 One needs to just go in the settings and click on change account and then add the new phone number along with old one. It is very easy to change your number on WhatApp. 
To send a message to all of your friends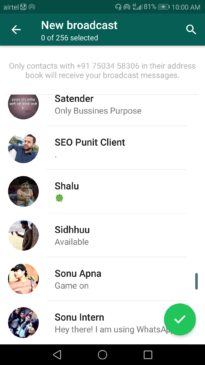 Secret WhatsApp Tricks     One needs to use the broadcast feature where one first has to ame a broadcast list from the contacts and then simply send a message which then shall be sent to all the friends on the broadcast list, but all of the people should have your phone number saved on their phone.
Top Secret Whatsapp Tricks and Hacks
Try the red heart emoji
The red heart emoji on the whatsapp actually expands and animate the beating like a real one and is too cute.
How to Change WhatsApp Chat Background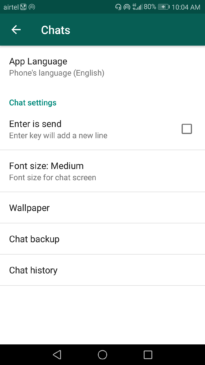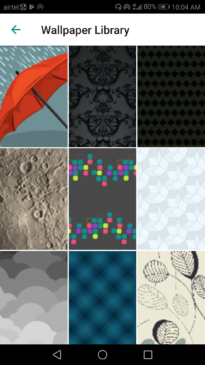 To change the whatsapp chat background One just needs to go to Settings –>  chat wallpaper, then a pop up menu shall appear where one can change the wallpaper settings very easily. You can add any Gallery image as the Whatsapp chat background or you can also choose from the already given Whatsapp wallpaper collection. So, this was one of the 31 best Whatsapp Tricks
To share your location with a Whatsapp contact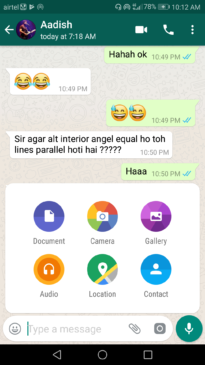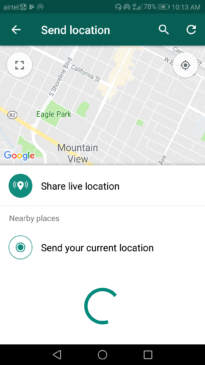 Secret WhatsApp Tricks    Do you know that you can share your live location with your friend using Whatsapp messenger. Wanna know how to share location using Whatsapp? Just open the chat window of the person to whom you want to send the location. One just needs to tap on the attachment icon and from there tap on the location icon and by using it, one can share their location with the desired contact but the GPS has to be enabled during that time as well.
How to hide your last seen on WhatsApp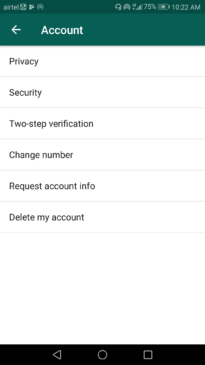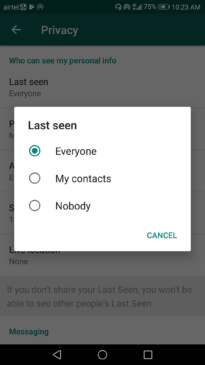 Do you know that you can hide your last seen notification on whatsapp. One just simply needs to tap on the vertical dots on the home screen and then click on the settings. Then one needs to open the account and then tap onto privacy option where one can hide the last seen from everybody or as desired.
How to hide your profile pic from someone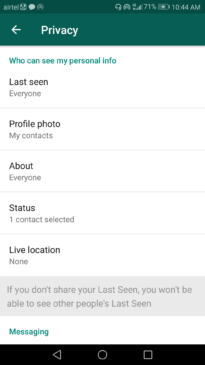 WhatsApp also gives you the option to hide your profile pic from unknown persons. We know that this Whatsapp trick is really interesting for you and especially if you are a girl, because girls have a habit of hiding their things from people. To hide your profile pic from someone you need to tap on the vertical dots and in the settings, one has to choose the account and then privacy option and then finally tap on the profile photo option and the finally choose the contacts.
To backup the chats or the files or the images: Unknown Whatapp Tricks
How to backup WhatsApp Chat and images:    WhatsApp allows you backup your chat in case you want to use your account on a new phone. Making a backup is a good option because losing data is very painful. Some chats are important to us as they may contain valuable information like passwords or records that you must have shared with other people. To backup the Whatsapp chats and images one has to just choose the suitable option of backing up all these in the Google Drive Backup in the settings and then choose to back it up either daily or weekly or monthly or never.
How to send the Whatsapp messages in new font
Best Whatsapp Tricks   You can also send your Whatsapp messages in a new font and to do so you just need to write your message like this "'Hello, how are you"' and pres send button. You message will be delivered in a new font.
To fake a thumbnail from the real photo
There are a lot of photo fake apps available on Google PlayStore. You can download these thumbnail fake apps and can play trick with your friends.
How to send GIF in Whatsapp: Whatsapp Tricks and Hacks
You can now easily share GIFs with your school or college friends using the Whatsapp Apk. One needs to open the attachment option and then tap on the gallery and from there among the videos and the images, choose the GIF's option and send as many desired.
To invite friends to join the group by sending the invitation links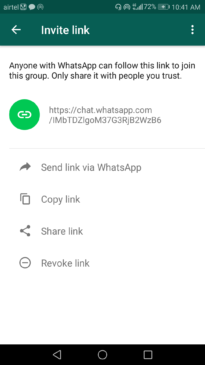 How to invite friends to join a group   The user has to tap on the three dost and then choose the invite option and then click on the desired way by which the user wants to send the invite. It can either through whatsapp only or copy the link and share link via other apps.
How to add Flash Effect to the whatsapp selfies: Whastapp Tricks
One just needs to open the take image option and then click on the extreme left side where the option to turn on the flash shall be there.
How to mention friends by tagging them in WhatsApp groups
You can simply tag your friends in a Whatsapp group. One can simply just use the symbol @ before their names and then reply to their messages specifically while being
How To use the new camera tricks in Whatsapp: Best Whatsapp Tricks
You can use the Whatsapp camera tricks by following this method:- One can just use the two fingers to zoom in or zoom out by just sliding the fingers up and down when the Whatsapp camera is opened.
How To Read Whatsapp Messages without the blue tick : Whatsapp Tricks
Sometimes when we are angry with our dear ones we tend to ignore them. Though, we wish to read their message but don't want them to know this fact that we have already read their Whatsapp messages. To do so one first needs to turn on the airplane mode. Then one can open whatsapp and read the messages and close it back, then the airplane mode can be turned off and no blue ticks shall appear even if you have read the Whatsapp messages.
How To send a message without typing in Whatsapp: Whatsapp Tricks
If you are tired of typing you can just use the mic of the Whatsapp and can get the message typed on its own. One just needs to tap on the message box and then the mic option shall appear up. The sender just has to tap on the Mic icon, and then just talk and it shall be automatically get typed as you speak.
How to use Whatsapp without any number: Whatsapp hacks
Best Whatsapp Tricks:     Do you know you can also use Whatsapp without a number. To do so one just first needs to uninstall the Whatsapp and then download it again. Then the airplane mode has to be turned on and then download spoof messages app and start the installation process. Then the number shall not be able to get verified and one shall be able to use Whatsapp without any number.
How To stop letting people know you read their Whatsapp message by default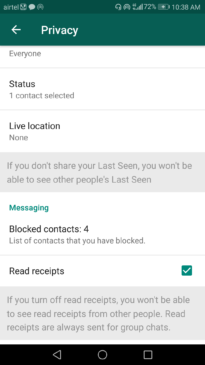 How to Stop Whatsapp Read receipts:   You just need to open the Whatsapp messenger Apk and then open the settings and chose the account option. Then go on to the privacy option and then just simply Uncheck the read receipts.
How To mark any message as starred in WhatsApp apk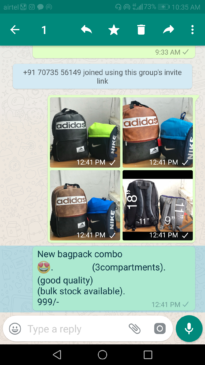 Sometimes you wish to keep some messages for later reference. You can mark such messges so that you can easily find them when you need. One just needs to long press that particular message as starred and then one when wants to find the particular starred message, he or she can simply go to the options of the starred message.
How To stop media auto download in WhatsApp
When someone sends a video file or an image it automatically starts downloading. You never know what the other person has sent. One can very easily go into the settings and then tap onto the data usage button and then click on when using mobile data to uncheck the automatic download of images or videos or audio or even documents. So, this is how you can stop auto download of audio and video files in Whatsapp apk.
To lock your whatsapp with a pin
You for your own security and privacy reasons can simply use this trick.  You can do by simply using lock for whatsapp app.
How to copy someone's else's Whatsapp status
One can easily do that in the Whatsapp web and then can edit the status there. One just needs to log into https://web.whatsapp.com   and then copy the status here and then edit it.
How to send bold, italic or strikethrough text in whatsapp
Whatsapp Tricks:  One can opt multiple ways like for bold texts, one can do by just by adding (*) before and after sending the text. For Italics mode, one just needs to add an underscore (_) before and after the text and for strikethrough texts, one just simply shall need to add tilde (~) before and after the text to get desired result.
To prank friends by bombarding thousands of messages at once in whatsapp
Do you know you can prank upon your friends using Whatsapp. You can bombard his Whatsapp chat inbox with a lot of messages. Wanna know One needs to open web.whatsapp.com in chrome browser and there needs to press CTRL+SHIFT+J at once to open a console. Now just simply copy and paste the code and hit enter. This shall bombard your friend's Whatsapp message box.
How to Backup Whatsapp Conversation(Chats) to Email
You can also backup Whatsapp chats in email. Just long press the conversation and then send the conversation as email to your own email. This way, you shall be able to particularly save a desired contacts info.
How to Mute WhatsApp Group Chats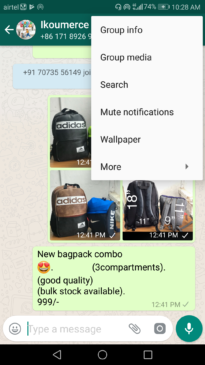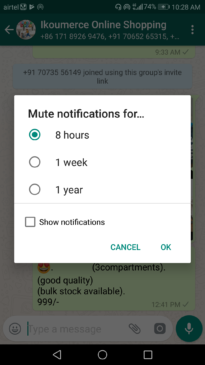 Sometimes a group having a lot of members can be irritating for you. Those bombarded messages can distract you from working so you can mute the Whatsapp  group chats for 8 hours, 1 week or 1 year. Simply click on the group chat then you will see the group info where you have to click on the mute option and select the duration for which you want to mute the Whatsapp group chats.