Reverse Phone Lookup  Services: Overview
Reverse Phone Lookup:  Receiving calls from an unknown caller? Such calls can be really annoying and sometimes, creepy at worst. It is no wonder, 'the unknown caller' element is so commonly used in the horror and suspense movies. And perhaps, you would like to know the identity of this caller before taking any further measures. Well, in that case, Reverse Phone Lookup services can be your saviour.
What is Reverse Phone Lookup? Best way to track a phone number
It is a very simple way of tracking a phone number by typing the phone number into a search engine or a directory which result in, some listings of name and address associated with that number. Technically, it is a reverse of typing a name and getting the numbers. And further, it is a much more straightforward way to find people than using Reverse Mail Lookup. In this post, you will learn how to know who called you, free phone tracker, track a phone number, find address and name of caller. You will also learn how to use Facebook as a Reverse Phone Lookup and also how to use Google for a Reverse Phone Lookup
Also Check: How to Send your location to your friend from WhatsApp
Also check: Best android app to know Who Checked Your WhatsApp 
How to Use Free Reverse Phone Lookup  Services to Find People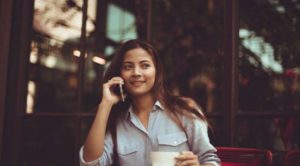 Now, that you are aware of such powerful tool, you might want to put it to use. Fortunately, for you, there are a number of free services available to cater to your need. These services lookup for the given number in the different database all over the world to find the caller id and details. Some of most reliable ones are:
Truecaller
This service will help you trace the name and location of an unknown caller. It is available in both website and as an app for iOS, Android, and Windows mobile. The company boast of more than 2 billion number in their database. However, a signup is required when you use it for the first time.
Reverse Phone Lookup
This free service is one of the most dependable site which provides quality results. This site gives you details about the owner's name, address, social accounts, criminal records, etc. However, it lacks some simple add-on like reverse address lookup. They have around 1.5 billion numbers in their databases.
com
Like the above, many such services rely on their own databases for results which may limit their chances of finding the unknown caller. However, Pipl.com, work in a different manner. Instead of depending on some database, it makes use of the search engine results to find information related to the number and can give some great results.
Though, Free Reverse Phone_ Lookup is worth trying when in a fix and shell out satisfactory results, they are, however, not consistent and show details of the only listed number. If free services failed to deliver results, you can consider some 'paid reverse phone lookup services'. Not only are they confidential, as you don't want your information getting back to the number you are finding, they give fast and better results and give you access to all type of number including the unlisted number. eVerify and Reverse Phone Check are some of the reputed services in the market with the solid refund policy. WhitePages is another recommended website and they even give 5 free days as a trial.
There can be instances when free reverse phone services failed to deliver satisfactory results and the cause may not be worth investing money in a paid service. But do not despair, for there are other handy ways of using the reverse lookup services.
How to use Facebook as a Reverse Phone Lookup
One of the best way to find someone today based on a number is Facebook. Though it doesn't speak positively about the Facebook privacy policy but in this case, it can certainly work to your advantage. Simply open Facebook and type the number in the search bar at the top of the screen and just hit Enter. If the individual has linked their number to their Facebook profile, they will display as a top search result, regardless, of their privacy policy or even if they are not on your friend list. This is quite a nifty trick and can be really helpful in many cases.
Now, you may be thinking, 'That's great, but what if that person has not linked their number to their profile? And What if that person that person doesn't care about Facebook and thus doesn't have a profile there?' The second scenario, though rare, is a possibility. But fear not, there is still something you can do and the answer, in this case, is, "Just google it."
Also Check: How to Check iPhone Availability in Apple Stores
Also Check: Download FaceTime app for PC/laptops easily & iOS 11
Use Google for a Reverse Phone Lookup
Earlier, it used to be really easy to use google search to do a reverse phone lookup. But since 2010, Google has officially shut down its phonebook operator owing to a large number of complaints and requests from people concerned about their privacy. Although it made the task more inconvenient, we can still use Google to do a Reverse Phone Lookup:
Enter the number (with zip code) in the search bar and hit enter.
You will see the number listed at many different directories. Since, Google removed the services, this is all we are going to get which means a little more legwork for us.
If the number is associated with any business, the business will usually show up in the top five search results.
If the number is private, it most likely will not display any results. But, if the number has been put up anywhere on the web, for example, on any social networking site, it is likely to show up in the listing.
While many people have successfully used Google and Facebook to reverse phone lookup and had decent results with the online reverse phone lookup services, it should be kept in mind that none of the methods mentioned here, is foolproof. There is no magical solution but these tools are an invaluable arsenal in your toolkit.