Email Marketing for Blogs and Websites     Blogging has gained a lot of importance nowadays. Blogging has become very competitive as a lot of people are moving towards blogging. Teenagers are choosing Blogging as career option. Just having a blog is not enough, you have to have more and more visibility to your blog, to increase he traffic and indirectly increase the earning from your blog. Email Marketing gives you the option to interact with your customers and readers directly. Email Marketing increases your conversion rate and chances as it is a direct interaction By building your Email list you can make a new visitor a regular reader of your blog. Bloggers are very much interested in Building an Email list. Professional bloggers also advise the newbie bloggers for making an Email List. Harsh Agarwal, Amit Agarwal, and be it any top blogger, they all focus a lot on the importance of Email Marketing. Many of us think that making an Email Marketing List is a very complex task and they have no idea as of how to make and Email List on your blog.  Today. in this post we will discuss, What is an Email List, how to make an Email List for your blog and the advantages of building an Email list on your blog. We will explain you what all plugins you can use for your blog to make an email list for your blog.
POST HIGHLIGHTS
What is Email list
How to Build Email list
How to create an email list for your blog
How to create an Email list manually
How to create an Email list using third Party Services
Advantages/Benefits of Email Marketing
What is an Email List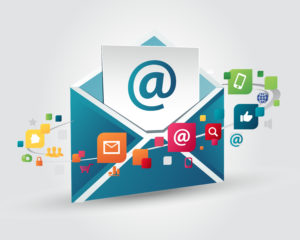 An Email List is basically a collection of email addresses of your blog readers. You need to add an Email Subscription box on your blog so that readers who love your blog and wish not to miss any of your upcoming content, can easily subscribe to it by clicking on the Signup option. Using this email marketing list you can keep your blog readers and visitors updated with all your latest articles and posts. The time period or frequency of the newsletters can be daily, weekly or monthly. You can add the new articles link in it, the new updates of your blog or any new product information if your website deals in buying and selling of products. You can send regular news and updates. Like if you have a tech blog you can send them the latest technology news, the new mobiles launched, the laptops and the sale offers of selected gadgets. If you have a lifestyle blog then you can share various tips with your readers. Fashion bloggers and health bloggers can share health related information with your readers an subscribers. There are numerous advantages of Email Communication with your visitors or clients. If you own an online website then Email marketing can help you to get more and more clients for your business. So, the Email list is very important to convert your visitors into your Readers.
Now when you know the importance of the Email marketing for blogs and websites, we will tell you how to make a an amazing Email marketing list for your blog.
How To Make an  Email List for your Blog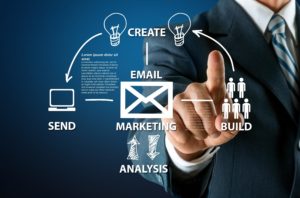 Make your Email List manually

. You can make an email list manually too but that's a tedious task. I mean it's not possible to manually add the Email addresses of each and every person. The outreach is very low in this method because you can not cover your readers, can add only email addresses of your friends or people you know. But, still, it works. You can manually ask the people who like your blog, if they want to stay in touch with your blog.
Use A Third Party Email Service Provider
Manually making an email list for your blog can be very stressful. The best and fruitful method is to hire a third party Email service provider for your blog. Though these are premium and paid email services, but few of them offer free Email Service to a limited number of subscriber of your blog. You need to sign up on the Email service provider and they will do all the work for you. You just need to signup and select your campaigns and other details and sit back and relax. will tell you some very popular and commonly used Email Service Providers. Have a look.
MailChimp:  MailChimp is the best and most preferred Email service provider used by the Professional Blogger and Business owners. You can easily find the MailChimp Plugin in your WordPress. Just search for Mailchimp and choose the email Subscription plugin of Mail chimp. Click on Install and then activate. Then go to its setting area and it will take you to the MailChimp website page and you will need to sign up and enter your details to choose their service. They will then show you their plans. the good news is that if you have less than 2000 subscribers you can use the free version of the MailChimp. You need to select what campaign you want to run. Choose the best according to your blog and readers.
Also Read: How To Turn Your Blog into a Money Making Machine
2.AWeber:   Aweber is another very popular email service provider among bloggers and also the top internet marketers. It allows you send emails, manages subscribers and readers. You can keep track your readers and subscribers. you can also send a sequence of automatically delivered emails (Autoresponder System), automatically create emails from your newest blog posts, and target subscribers based on their action, location, etc with a single click. AutoResponder can be very usefulThere are many formatting options in the Aweber. You can design your Email Subscription Widget, add your own text, headlines you want, Sign up button or any other button. You can add different colors for your buttons and the heading you make, Titles etc. For the first month, they charge you 1$ only.There are some other Email Service Providers. But you need to select and compare the plans and what suits your budget. Constant contatc can also be used. Instead of choosing a free service I will ask you to use the paid ones. All the top companies like Apple and Facebook also use the third party service providers.
Also Read: Get Your Google Adsense Approved Within 20 Days using these Tricks
Advantages of Increasing Blog Subscribers
Blog Outreach: With Email marketing strategies you can also cover those people who use social media very very less and also those who do not use social medias.
Selected Targeting: You can select and choose your subscribers and send them newsletters and emails according to their interests and their location etc.
Ownership: In Facebook and Twitter you have the chance of account suspension if you do a repeated promotion of your content. But in the case of Email marketing things are different as you are the owner and you yourself need to do all the things.
Direct Interaction with your Blog Visitors: With social medias like Pinterest, Facebook, Twitter and other medias you can not interact with your readers and have no surity whether people will read or not.  But in Email marketing, there are more chances that the person will surely read your mail.
Top Bloggers use Email Subscriptions. SEO Expert, Brian Dean and Harsh Agarwal, founder of Blogging niche blog, www.shoutmeloud.com also uses the third part Email Service providers and focuses on the importance of email marketing for blogs and websites. He always focuses on the importance of Email list building in his videos. When you visit backlino.com then first thing that opens up is the subscribe popup only. When theses top people are using Email list building then you can understand how important this thing is.
Increased Revenue: More Email subscriber to your blog means more readers of your blog, which means more traffic and more traffic means more clicks and conversion which leads to generating more revenue.
So, this was all about the Importance of Email list building. We told you how to build and email list for your blog. If you have any queries you can ask us in the comments section below. The benefits of Email Marketing for small businesses are numerous. We now hope that you understood why email marketing is important.