BombitUp APK Download
BombitUp APK We all have friends and friendship without fun is incomplete. We all love to laugh and enjoy with our friends. Pranks are very common nowadays. We love to play a prank on our friends and the best feeling is when the prank gets successful 🙂 So, today in this article we will talk about one such app which will help you out to play a prank on your school, college or office friends. You can also play this prank with your cousins if they are of your age or so. You must be wondering what kind of prank it will be. So, let me tell you it will be a fake SMS prank, or you can say SMS Bombing prank. Today, we will talk about the best SMS Bomber APK, the BombitUp Apk. We all provide you the link for BombiUp Apk Download Latest version. Later we are going to tell you how to download BombitUp Apk on Android smartphones. So, check out the best SMS Flooder Apk for SMS Bombing.
What is SMS Bomber APK/BombitUp APK
SMS Bomber APK is basically an SMS Bombing App which lets you do SMS Bombing Prank on your friend's smartphones. It is one of the top SMS Flooder App for Android mobile phones. Basically, the app was designed just for fun purpose. It was designed to send fake text messages to scare your friends. But some people misuse the app because they use the app for taking revenge from others and it serves as the best Revenge Apk for Android for them. You can send unlimited messages on a number without disclosing their identity. The best thing about the BombiUp Apk Download is that your identity is kept anonymous and the receiver of the messages will never know that you are sending him prank or fake messages (SMS bombing). But you should keep in mind that the developer of the Bombit Apk has already made it clear that they do not hold the responsibility if the app is used by someone for revenge purpose.
You may not find BombitUp App on Google PlayStore because it does not meet the spam free App guidelines of Google. That's why Google never Approves such app on its platform. So, BombitUp APK Download from Google playstore will never be possible because we don't think that such spam niche apps will be accepted by Google Playstore.
BombitUp APK Download Latest version
BombitUp is one of the best SMS Blast Apk for Android. Below we are giving the SMS BombitUp APK Download link. From here you can download the latest version of BombitUp App for your android phones. The iOS version of BombitUp Apk is still under development and they may release the BombitUp APK for iOS phones soon. Check out the BombitUp APK Download link in the meantime.
Download SMS BombitUp Apk for Android:–
SMS BombitUp App [v3.06.02]
How To Install BombitUp APK on your Android Phone
Click on the BombitUp APK download above. It will redirect you to the download page.
2. The download link will be available in 3 options. SMS BombitUp APK download (Slow speed download), SMS BombitUp APK download (Fast Speed but with Ads) and SMS BombitUp APK direct download from the GitHub developers page.
3. The SMS bomber app will be download with the .APK extension in your android phone. Click on the apk and install it on your smartphone.
4. By default it will ask you whether you want to download from untrusted sources. Just check the link and the app will be downloaded.
Also Check: 6 Best WhatsApp Alternatives to Download
How to Download SMS Bomber APK on Your Friend's Phone
1.Open SMS BombitUp APK on your android smartphone.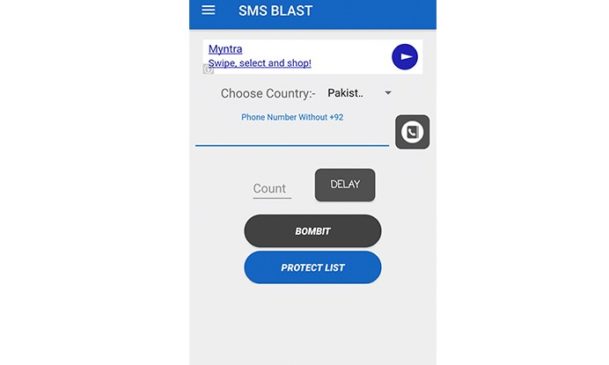 2. Select country and mobile number and select the count of number of messages or SMS blast you want to do on your friend or relative's smartphone. You have to enter the mobile number without country code.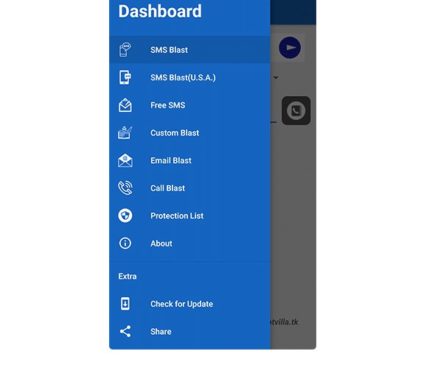 3. Click on BombIt and Sit back and Relax.
4. Now it will send do SMS bombing for you.
5. You can select the time delay between each message.
Also Check: Download GBWhatsApp latest version 5.80 for Android
Features of BombitUp APK
1.Easy  To Use App
The SMS Bomber or free SMS  Flooder app has a simple design and it is very easy to use this app. You can send unlimited messages anonymously.
2. Flexible To Use
There are no restrictions on the app you can play prank on anyone at any time.
3. Protect List option
This list can be used to protect ourselves from the SMS Bombing feature.
So, this was all about the SMS BombitUp APK Latest version. Hope this post was useful. Play prank on your friends but we will strongly recommend you not to use this app for revenge purpose. Stay Tuned with Techadvises for more android apps download.
Note: We don't promote the usage of such apps for revenge purpose. This article is for the informational purpose only.