WordPress 5.o Released Officially
WordPress 5.0 has been the latest release this month. It is the major release of 2018 that has also been termed the game changer among all the WordPress releases until now. It definitely comes with full-on new features, improvements, and some big changes. So in this article, we are going to show what all new in the new WordPress 5.0 and which features you should definitely try after updating to it.
 Wordpress 5.0 is a big release and until and unless you on a well-managed service of WordPress hosting, you will have to learn it the hard way by initiating this version manually. That can be a daunting task for most of the people.
 Gutenberg the new editor(block based)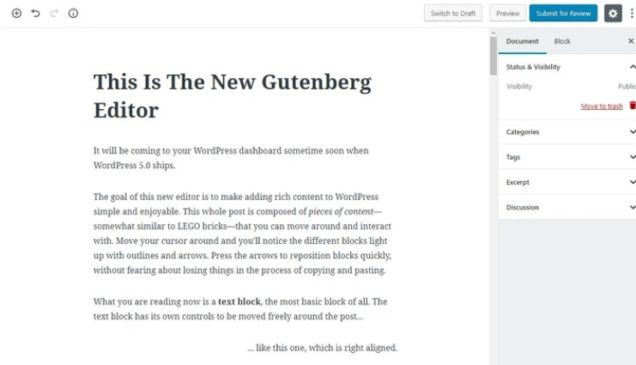 This WordPress version ie. WordPress 5.0 comes with a completely different codename that says "Gutenberg".It works as a blog based editor that let its users create beautiful and masterpiece content and layouts using block editing.
If we talk about the old wordpress version it was just a simple text window which allows you to write texts but had many different approaches for utilization of images, audio files, gallery creating, and many other content based elements.
Hence this time the core team has replaced these many troubles that writers had in the past through allowing a streamline writing technique where each paragraph or word is wrapped well-managed in a block. There are tons of features that come handy in every block. For example, you can move around the editor on the top of each block, change settings as you wish, create engaging and dynamic layouts. This time wp team has tried its hands best on improvi9ng the user ability, providing ease of usage of different features and utilize them much more efficiently than before.
Also Read: How to Get More Sponsored Posts and Paid Guest Posts Offer on Your Blog
By default, this WordPress 5.0 with Gutenberg editor comes handy with blocks system to add commonly used content like images, audio files, documents, cover image, quotes etc into the block. To say about its appearance, the heading tab, bold tab, italic tab and other tabs that were given above the space where you used to write content are now replaced in a single box position above each block. This slight change has mattered a lot by allowing the writers to utilize the platform more efficiently.
Also, this version allows the users to add images texts and list after each block rather than following the standard way of uploading files through add media widget.
Each block has its own toolbar and settings. The settings remain the same for each block tough positioning is different. Other than basic options of formatting, you can also change color, width, and many other attributes too.
As told above widgets have been included in blocks itself on the top of each block. This gives you the opportunity to add shortcodes, comments, categories, archives, and posts. 
If you and your team can rely on adding shortcodes to the articles then you can have the best experience of using the wordpress 5.0 Gutenberg editor.
The new Gutenberg editor has made thing easier by making embedding of the images, texts, audio files etc very easy.
To see the embedded options you just have to simply expand the embed option under the add block tag or button.
This makes it simpler and interesting to add facebook embeds, Twitter embeds, news a lot easier. 
You can even switch to a distraction-free full-screen mode in the WordPress 5.0 version if you feel irritated or distracted from the WordPress admin sidebar. Going for the full screen will hide the WordPress admin sidebar. Hence giving you a lot more space to design your content.
you will also find all the usual post editors tucked nearly at the sidebar. The document button includes publishing, saving as draft, moving to trash etc. On the other hand, the Block button will have all the editors for the individual black where you will create the content.
Also Read 10 Best WordPress Plugins 2017: Top Plugins You Must Have
Reuse and create the blocks.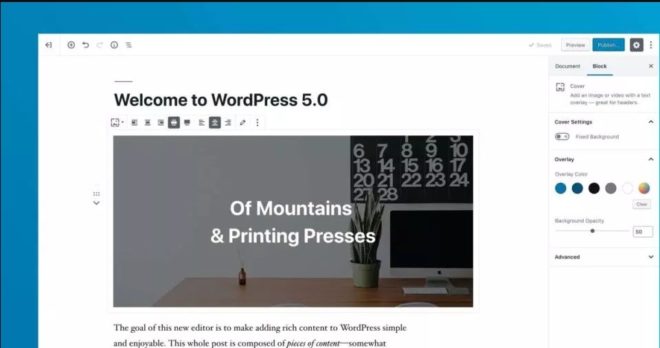 If you are someone who writes in a particular style or way then you can add and save the blocks as reusable blocks and transfer it directly when you require it later.
Edit a block you want to use again and add in the reusable column. After your satisfaction, click on the menu dots in the toolbar of the block and select the column of "add to reusable blocks".Provide the name of your reusable block and WordPress will save and remember it as the reusable block.
Edit existing content without losing it.
do not worry about the old content. WordPress 5.0 will not harm any of your old content and even give an opportunity to use WordPress in the old m, manner. While editing your old posts you will find that the text has been wrapped in a classic old editor-block.
Continue to edit the old article in the classic block. This new version will still give you the opportunity to convert the old article and categorize the old content into blocks so that you can use all the features of the existing WordPress version.
Can I still use the old version of WordPress?
Yes, you can easily use the old classic WordPress version by downloading a plugin"Classic editor" from plugins section. After activation the plugin will simply disable the new block editor, allowing you to use the classic old version of WordPress.
So,  this was all about the WordPress 5.0 new editor and its exciting features. If you want to know more about it then we would suggest you to install on your blog but make sure that you make a backup of your blog and you are aware of the technical know how. If you have any queries regarding the WordPress 5.0 installation, you can ask us in the comments below. Stay tuned with Techadvises.